Solar Bronze 20 – Conservatory too hot to use!
Conservatory roof  – South Coast
Window film used – Click link for our data sheet Solar-Bronze 20
We received a website inquiry for window film to be installed on a conservatory roof. We were sent pictures that showed a pitched roof. Most people may not realise that if the roof is pitched then measuring the width and length of the window only would mean that when you came to fit the film you would be short, not good.
At this point it became evident that a site visit would be required to give the customer a more accurate quotation and to look at the range of window films available to them. Our site visits are complementary and it gives us a chance to see what the client is aiming to achieve. If the client isn't sure which film they prefer our friendly team will put up large samples of each film and leave the client to decide which they prefer.
We never tell our clients which film they should have, we never hard sell either, we offer our expertise and knowledge to allow the client to come to an informed decision.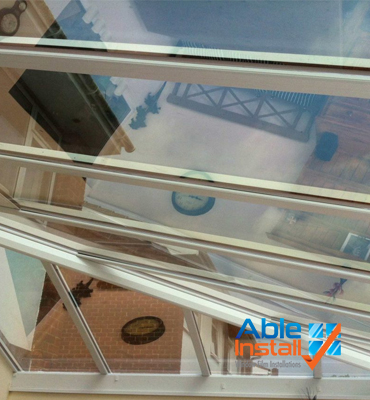 What the client said after the installation was complete.
We are delighted with the bronze window film. It's been installed long enough and the weather has improved enough for it to have been well and truly tested. Before, come a hot summer day, our conservatory was a no-go area, even with all doors and windows open. We had recorded temperatures in the fifties Celsius! Now, we have a conservatory we can use. The temperature now is much, much lower and makes the conservatory a room we can use all year round. 

Please thank Rob and his colleague for the very professional installation service and indeed yourself for promptly responding to emails and enquiries. The fact that you guys were prepared to come to us, look at the room and advise on type of film, coupled with the fact that you did all the measurements to give us an accurate quote, was a clincher. Other companies wanted us to do all this ourselves and as for window blinds, we nearly fell over backwards when we discovered the costs. The window film is more effective and cost us a fraction of the money we could have spent on blinds.

So all in all, you have two very satisfied customers here and thank you once again.

David H.
So do you have a conservatory that is too hot to use in the summer, are you getting the most out of it? If not give us a call and we will visit to advise on the best solution for you. No pressure just the best advise we can offer.
Before and after photo's