Solar Heat, Tinted

& Uv Control Window Films
Bolted Glass Containment Systems Reduce the Dangers Caused

by Accidental or Spontaneous Glass Breakage

Property management, health and safety and risk assessment professionals are well aware of the dangers that glass failure – particularly overhead windows – can cause in busy public areas. Whether the breakage is spontaneous or accidental there is significant danger to people and property, therefore bolted glass containment systems may be the solution to these dangers.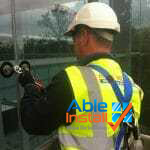 Setting a bolt to the
correct torque
Bolted Glass containment Systems have distinct advantages.
Toughened glass tends to be the preferred glass used by both architects and main contractors due to it being more cost effective and lighter than laminated glass but unlike laminated glass which if broken tends to stay in one piece (like a car windscreen) and unlike ordinary float glass which when broken goes into sharp pointed shards toughened glass breaks into thousands of small pieces so therefore a professionally installed bolted glass containment system will hold the broken glass that has fractured together and in place, preventing it from falling and causing injury or further damage to people or property.
There can be an integral fault in the manufacturing process of some toughened glass. The inclusion of nickel sulphate can cause the glass to become brittle and spontaneously break without warning, posing potential risks to the general public. Ideally all glass should be replaced, but this is prohibitively expensive.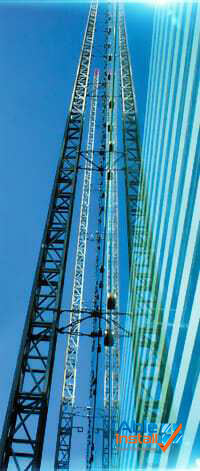 Bolted Glass Containment systems & Anchoring:

How it Works

Our solution – which is cost-effective and non-disruptive – is to use window films together with the bolted glass containment system. Our anti-shatter safety window film is not only strong but also absorbs shocks and stresses without tearing or weakening. The bolted system frame will bend and twist without breaking, even when subjected to impact stress.
The result is that broken or shattered glass will adhere to the adhesive of the film, and broken panes are held safely in place where if necessary a safety cordon can be put beneath or in front of the broken panel of glass to protect the public until the damaged panel can be removed and a new replacement panel (which can have the safety film fitted to it prior to installation) can be installed.
Our systems meet The Glass and Glazing Federation's Recommendation 5.18.3 for adhesive-backed polymeric film applied to glass in the overhead position for containment of glass in the event of failure.
Front View of internally installed polypropylene self-adhesive washers behind bolts on a bolted glass containment system.
Best of all, our bolted glass containment systems can be installed without removing the existing windows, minimising the impact and disruption to your customers and business.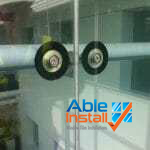 Front View of internally installed polypropylene self-adhesive washers behind bolts on a bolted glass containment system.
Take Advantage of

Our Knowledge and Experience
It's not always easy to identify the right film to use, depending on the type of windows used in your building. We are specialists in display graphics and can walk you through the different products available so that you can make an informed choice that will meet all your requirements.
Contact

Able Install Now!

Having pioneered and developed the Bolted Glass Containment System, Able Install ltd have successfully implemented variations of this innovation to over 30,000 square metres of glass to prestigious projects such as: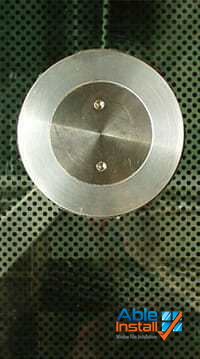 External view of bespoke stainless steel 316 washer designed to fit around a bolt on a bolted glass containment system