Leading

Window Manifestation Designs Company
Where an area of window must be immediately recognisable as a barrier, Display & Manifestation Design Graphics vinyl and film can be pre-cut and manufactured to display anything from a simple design to a complicated decorative logo, whilst ensuring that the windows or glazed office partitions comply with the Building and Disability Regulations.
Glass shows no sign of waning in popularity with architects and main contractors and it is used extensively in modern workplaces and leisure facilities – in fact, light is an integral part of most building designs these days and windows are used extensively as a result.
Furthermore, over the past ten years, there have been changes in working practices. Communal areas have become integrated with meeting rooms, and the emphasis is on 'open' offices and visible workers. Walls have gone out of fashion to a large extent, and are being replaced by glass partitions.
However, this can come at a cost. First, privacy can be lost; second, the Disability Discrimination Act 1995 states that all window panels must bear a pattern or other design that makes them visible to visually impaired people. These are referred to in the trade as Manifestation Graphics.
DISPLAY & MANIFESTATION DESIGN GRAPHICS
What are Display and Manifestation

Design Graphics?

First of all, it is important to know that since the Disability and Discrimination Act 1995, all window panels must show a design of some sort, in order to make them visible to visually impaired people. Manifestation window film actively helps to support this need.

As windows and glass walls have become increasingly popular over the last few years, our team has found that more and more offices, buildings, and even homes are trying to integrate them more into their settings in order to accommodate more light, create a more visually pleasing area, and one that appears to be more 'open'.

That being said, there is no doubt that having all of this glass around can be dangerous, especially if they are so well maintained that they are not visible to the naked eye!
So, how do we make something transparent, visible? Well, at Able Install, we have a great selection of display and manifestation design graphics that are designed to be put on windows and panels of windows, in order to make them more visible. When visibility really is lacking, the best window manifestations will help you transform your accessibility.
You can choose from simple lines across the window, to a frosted effect, to opaque and coloured window films, etc. Some choose to have their logos or own designs to be put on the window. Why not opt for low cost decorative window film?
We operate across the United Kingdom – from London to Manchester, Birmingham to Sheffield.
Here at Able Install, we want to make sure that you have access to attractive window manifestations that make a real difference – and we will take the time to help you find which design is right for your home and/or for your business.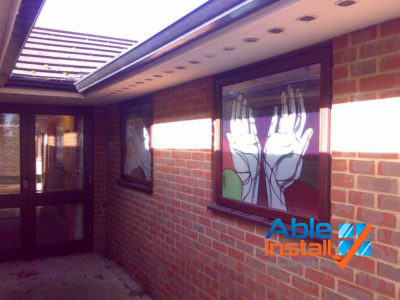 Choose Able Install for All of Your

Display and Manifestation Design Graphics
Able Install is a leading window film installation company and over the years we have worked with many different businesses and individuals, making windows meet their safety regulations, be more private and be as stylish as possible.
If you are considering hiring a window film installation company for your home and/or business then look no further than your local Able Install! Our friendly and experienced team members will help you find the right design for your window, no problem!
Having a window film to cover all of your display manifestation design requirements is always a better idea than ordering specific types of windows that have been pre-cut with the design in mind is not only cheaper, but it also means that should you eventually wish to change the design, then a window film is easily replaceable, whereas replacing an entire window set could take you a lot of time and money!
Get your free quote today by calling us on 0333 212 4236 or you can always contact us at info@ableinstall.co.uk.
Take Advantage of

Our Knowledge and Experience
It's not always easy to identify the right film to use, depending on the type of windows used in your building. We are specialists in display graphics and can walk you through the different products available so that you can make an informed choice that will meet all your requirements.
With opaque, frosted, obscure or coloured window films, the possibilities are endless: from simple bands and circles/dots to more decorative designs using more than one type of window film.
Display graphics are less expensive than etched or sandblasted glass, and you don't have to decide whether to put up with the noise and mess of etching or blasting or the inconvenience of replacing glass panel by panel. Furthermore, the graphics are not permanent and can be replaced should you wish.
We have the skills and experience to deliver the look you require in your place of business, whether you want a straightforward privacy film installation or want to make an impression on your visitors with a complicated design incorporating your brand.
Let our experience help you combine the benefits of glass with the impact that creative design can create, and make sure that you comply with the DDA Specifications