We are a modern company with old fashioned values.
Established in 1990, Able Install Ltd specialise in the supply and installation of solar control films, conservatory glazing films, anti-shatter, safety and security films, bomb blast protection films, bolted glass containment systems, and opaque, privacy and frosted window films.
We also have our very own in-house graphic design department, which can produce a wide range of bespoke graphics and logos.
You will find our approachability, experience and technical knowledge second to none, and we are readily able to satisfy any requirement, from a small one-off installation to managing a large commercial project.
We understand and fully appreciate that window film is something that a lot of people are unfamiliar with so we are more than happy to come to you and install some temporary medium size samples of the films we recommend would be best suited for your needs and explain the different values and benefits of the individual films and then leave you to make your own informed decision with no obligation and definitely no hard sell and of course this service is provided free of charge.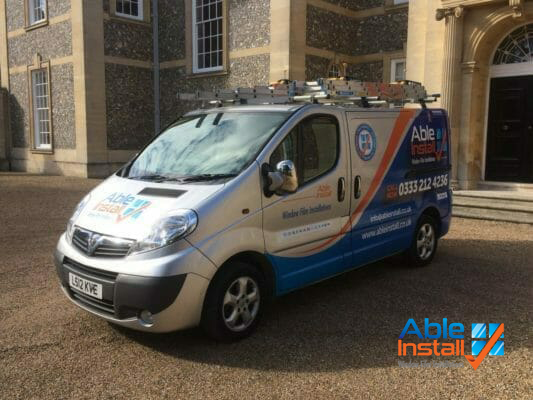 What Makes

Able Install Unique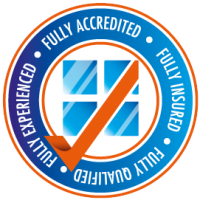 We have over 30 years' experience installing window film, manifestations and design graphics in not only the UK but also 25 countries worldwide.
Having successfully complected projects both large and small both nation and worldwide we can safely say we have fitted every type of window film, to every type of window, in every type of environment!
All our installers great personal pride in not only a job well done, but completing the job on schedule with minimal disruption and, of course, on budget.
We believe our continued success over the years is down to the great importance placed on offering a friendly and efficient service.
You will only have to deal with our dedicated installation manager who will always go the extra mile to ensure you receive a professional, high-quality installation at very competitive rates.
What Makes

Our Products Unique
Our customers can be assured that the products we install are the best quality available, and are only ever purchased from reputable, reliable UK suppliers.
As we are not tied to any particular supplier, which enables us to remain competitive and also to offer an extensive range of solar control, safety and security, opaque privacy, and decorative window films.
We always ensure that the window film we install are best suited to our customers needs and the glazing and environment they are designed for.
Our attitude is that if you have contacted us, then you are already interested in the product so we don't use sale people but experienced "hands on" installers to go through you're film options with you.
Sometimes customers are unsure of which film will work best for them so we are always more than happy to come to your property and install some decent-sized samples, give you a physical demonstration of how effective the window film is and discuss the benefits of the individual films we offer, and then leave the samples with you, all free of charge so you can see for yourself how they will look in different lighting conditions.
This means you can make an informed decision on what film would best suit your requirements, in your own time, without any kind of hard selling tactics.
Take Advantage of

Our Knowledge and Experience
It's not always easy to identify the right film to use, depending on the type of windows used in your building. We are specialists in display graphics and can walk you through the different products available so that you can make an informed choice that will meet all your requirements.
What Guarantees

We Provide
All of our films carry up to a 10-year industry leading manufacturers warranty, that secures the value of your building upgrade in the long term.
All of our window films or design graphics are professionally installed by one of our own qualified installers and that you are completely satisfied with the installation.
* Please note: we can only offer a warranty on window films supplied and installed by Able Install Ltd.
Please find a list and links too the different films and applications for these films below: