Conservatory

Window Films
Conservatories and orangery's are popular additions to buildings and homes these days; however the suns heat through the roof windows in your conservatory or orangery can build up to the point where the inside of the conservatory becomes uncomfortable and even unbearable and become little more than a glorified greenhouse!!
Our conservatory & roof glazing films will reduce all the problems associated with too much sunshine and heat through your conservatory and orangery roof windows at a fraction of the cost of fitting blinds which only really act to trap the heat and bugs and not actually deal with the main problem which is too reject the heat and glare altogether.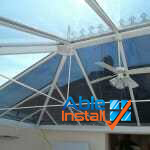 We don't claim to be the biggest company offering this service in the UK but we would like to believe the service we supply to our customers is both unique and a lot more personal than you will find elsewhere.
For a start don't use subcontractors to do our work for us as the majority of our competitors do and you will only ever be dealing with the same people from start to finish,we are not really interested in making a huge mark up on our product like our competitors but we genuinely like to do what we do and will always ensure we do our very best to ensure that the film we install on you're behalf is done to the very best of our abilities and it is the right film for you and we take a great pride in achieving this.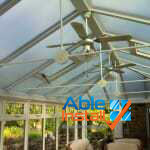 If you were to contact us you will find our approach both honest and informative as we fully understand that with your experience with other trades IE carpentry, plumbing, electrical etc you already have a good idea from your own projects through say D.I.Y. or having other jobs done around your home whats involved and the approximate cost of having these types of work done however its doubtful that when it comes to a window film installation that the average homeowner has had little or no contact with this specialist trade whatsoever so our hands on installation manager who has been installing window film for over 30 years will come out to your location and he will go the following.
Show you a physical demonstration of just how effective the different films are.

Install several different types of films so you can see what the different films actual look like yourself.

Give you a verbal quote to do the work before he goes and of course a written quotation from our office within 48 hours.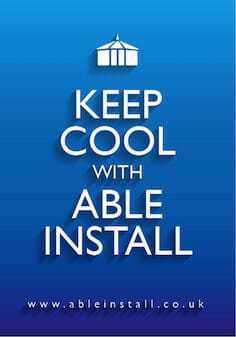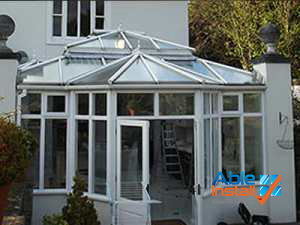 External view of internally installed silver 20 solar control film.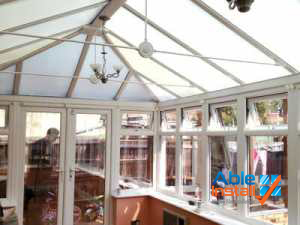 Coolkote solar control film being installed to a conservatory with a poly-carbonate roof.
We don't believe in "hard sell " either and we don't employ salespeople as the way we look at it is that by contacting us via our website you are already interested in the product so we more than happy to come out to you and explain what our product does,show how it works and give you a price for the installation and then leave it with you so you can them make your own informed decision all of course free of charge and please be assured that we won't hound or chase you up afterwards and if you believe that the product we supply is not really for you then no problem.
Depending on what you are trying to achieve whether that be to cut out as much light and heat as possible or simply to "take the edge of the heat and glare" We supply and install a varying degree of tints but depending on the material used to make your conservatory windows then there are two options open to you.
Window Film Installations

for Glass Conservatories

If the conservatory roof window is made of glass then our solar control heat rejection film can be installed (either internally or externally) to dramatically reduce internal heat build-up, by up to 77% in most cases however if you're conservatory or roof glazing is made from polycarbonate or plastic then the alternative for these types of roofs is coolkote (please see below)
Save Money on Energy Bills,

Reduce Your Carbon Footprint

Solar control window films helps you use less power and keep ongoing energy costs down by not having too have fans or expensive air conditioning units running to keep your conservatory cool as well as helping to protect our global environment for future generations.
Protect your Eyes &

Improve visibility on TV and computer, laptop and mobile phone screens.

Glare on TV, computer or mobile devices screens can not only make it almost impossible to view what's on the screen but also cause eye strain, headaches and tiredness. With solar control window films, this can be avoided as our solar control films can cut out up to 81% of the suns glare.
Reduce Fading Caused by

ultraviolet (UV) Rays

The sun's ultraviolet (UV) rays cause permanent damage to carpets and curtains, furniture, art and graphics and pretty much anything else you can think of! The majority of solar control films we install will trap and reject up to 99% of the UV in the sun's rays.
Coolkote for

Polycarbonate Glazing

However if polycarbonate has been used instead of glass then we cannot install normal solar control films as they will not adhere to the polycarbonate. Instead, we use CoolKote, which is specially designed to mould itself around the ribs and curvature of polycarbonate glazing (where normal solar films cannot) but works just as well on flat glass.
Take Advantage of

Our Knowledge and Experience
It's not always easy to identify the right film to use, depending on the type of windows used in your building. We are specialists in display graphics and can walk you through the different products available so that you can make an informed choice that will meet all your requirements.
About CoolKote

solar control film
For use on polycarbonate or glass

Can be installed internally or externally

Ultraviolet barrier helps prevent fading and sun damage to fixtures and furnishings

Less expensive and more effective than blinds

Minimum disruption during installation and no maintenance

8 year warranty (when supplied and professionally installed by Able Install Ltd)
Blinds
Absorb heat to a point, then let it through to be absorbed by furnishings and gather dust and dead insects.
OPPRESSIVE
Coolkote
Reflects heat away at source.
IMPRESSIVE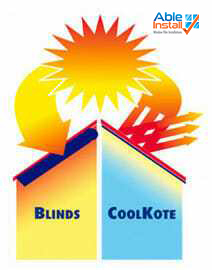 Kitchen / Conservatory

in Leatherhead, Surrey

Job description: Fitting Silver 20 window film

Problem: Mrs Karen Lee complained of excessive heat build up during the summer.

Solution: "Able Install Ltd provided a free survey. Remove existing blinds and clean inside and outside. Fitted silver 20 reflective window film.

Duration: 2 days

Window Film Install

at Borough High Street, London

Job description: Removal of existing old film and thoroughly clean down windows. Supply a product to reduce heat and glare into office below.

Product used: external silver 20 with 7 year manufactures guarantee

Duration: Work undertaken out of normal office hours full site survey and quotation within 48 hours prompt "speedy" professional service.

Removal off old window film and the installation of new external grade silver 20 solar control film