Frosted

Privacy Window Film
If you want to add elegance and aesthetics to your indoor or outdoor space, then a frosted window film in the UK or elsewhere makes the most beautiful addition. Apart from offering superior privacy, a frosted window film installation is highly versatile and renders many other benefits.
Popularly recognised as frosted privacy window film, these windows help blur vision in a particular room or space. Thus, making it the most desirable choice in commercial spaces as office glass frosting. One of the most mistaken notions about these glasses blocks natural sunlight. But on the contrary, it allows plenty of the sun by filtering it from harmful UV rays, protecting your interior.
It also acts as an ideal and preferable solution to enhance the energy efficiency, as it keeps the indoors warm by filtering sunlight. Eventually helping you conserve energy and your heating bills. If you are looking for one, these windows make for a perfect choice as a bathroom window, as they are easy to clean and do not rust, streak, or corrode due to their structured surface. They also offer added privacy.
Amplify the security and style of your home's living space or office workspace with Able Install's quality frosted windows. We offer the most premium quality and low-cost frosted window films you will never be disappointed with.
Stop your search for a window frosting near me, as you have encountered the leading and trusted installation company. Connect with our experts today and we will get in touch with you soon!
Frosted And

Privacy Window Films
Most architects and designers utilise glass throughout the workplace – not just for the outside of a building, but also for the internal partitions.
Unfortunately, whilst the desire is to create a light and open atmosphere, sometimes the side effect is to leave people feeling far too visible, or to remove privacy from certain parts of the office that need it.
This can not only affect your staff but also have an impact on security within your organisation.
Privacy Window Films Let Light Through but allow a degree of privacy depending on the degree of opaqueness of the privacy film.
Frosted window film

is perfect for privacy

Our Frosted Window film allows you to keep the benefit of windows and glass partitions by allowing natural light to enter, so the room won't feel gloomy or oppressive, but won't expose the contents and people inside for everyone to see.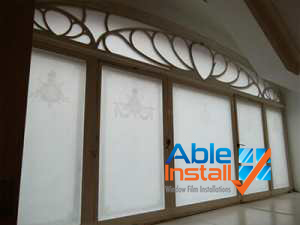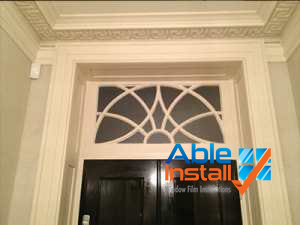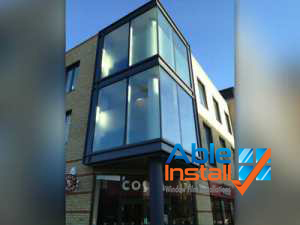 Leading

Privacy Window Film Company
When you think of a window, you naturally think of a transparent piece of glass between four pieces of wood or plastic. Using windows as a wall has become increasingly popular in homes offices alike, as they let in the light in and give a nice modern look to any room. However, having windows as room separators and walls does come with its downsides too. Then our one way window film UK will be the best choice for you.
Thanks to our professional privacy window film installers who provide the best finishes in the window, users can create the level of privacy required on their windows without sacrificing the sunlight, which is a huge benefit. Well, have you considered having privacy window films installed at your home or office? Contact privacy window film installers near me for the full lowdown.
Able Install has a great range of frosted windows and privacy window films, so you'll be able to choose the right one for you, depending on your style and the design of your room, office and/or home. Window privacy film installation is perhaps more flexible than you might expect!
Privacy window films can create a opaque window effect that covers the entire window or only part of the window if that's what you are looking for, thanks to the crystalline material. They allow all of the light to enter the room without having to be completely visible to those around you. Able Install provides you with the best frosted privacy window film services in London and across the UK.
Another bonus to having privacy window films is that you can choose whichever style you want! We have a wide selection of opaque window film to allow for more light to enter the room. You can choose from:
Thanks to our large selection here at Able Install, you are bound to find the right privacy window film for you!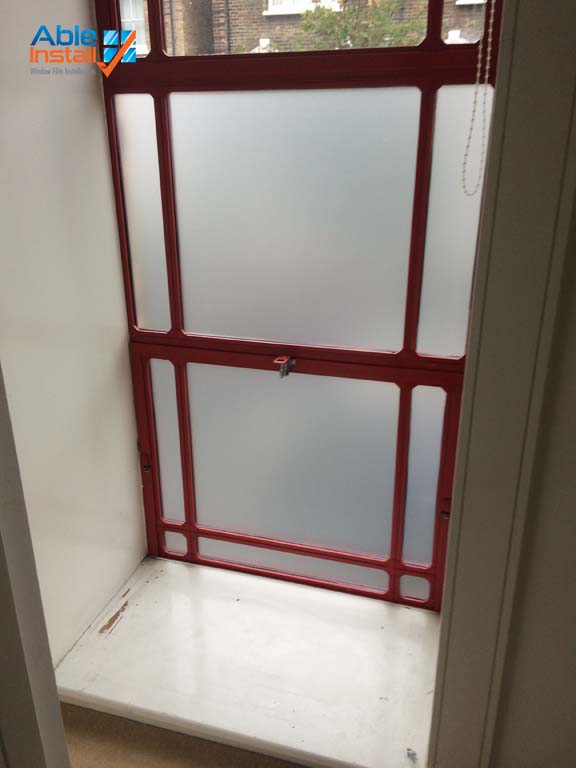 Take Advantage of

Our Knowledge and Experience
It's not always easy to identify the right film to use, depending on the type of windows used in your building. We are specialists in display graphics and can walk you through the different products available so that you can make an informed choice that will meet all your requirements.
Why choose Able Install to

for frosted privacy window film?

Here at Able Install we understand the need for privacy. Our privacy window films have been created to keep you in a nice clear room without having to worry about your alone time. Residential privacy window film is available in all styles and cuts.

Our company has been helping other companies and individuals alike with office window privacy film to feel more safe and private within their own rooms for years. Our experienced team will work with you to find the right modern window privacy film for you and your area.

So for privacy window film installers near me, look no further than your local Able Install! Our friendly team members will be more than happy to help you find the right window film for you and at a low cost!

Whether you're in Essex, Liverpool, London, Surrey or elsewhere, we can help.

So get your free quote today or for more information, contact the window film installation experts.
Privacy, Security –

and design possibilities too

As well as creating seclusion, hiding curtain walling and smartening up glazed partition areas, they can also be used to create dramatic, modern effects in waiting rooms, offices and lobbies.

Reflective window films can also be used to create privacy. However privacy is only achieved wherever the outside light is greater than the inside light.