Reliable

Anti-Graffiti Window Films
Anti-graffiti window film acts as a sacrificial barrier to protect glass from scratching and general abuse; it can easily be removed and replaced without needing to replace the more expensive glass itself.
These films are currently fitted extensively to most Transport for London (TFL) public service vehicles.
Another benefit of this window is to protect your window, which is that it will prevent 'Smash & Grab' robberies!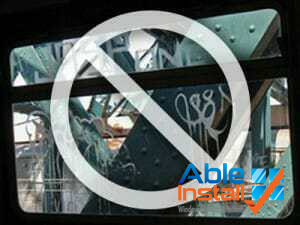 WHAT DO ANTI-GRAFFITI WINDOW FILMS DO?
Leading

Anti-graffiti Window Film Installation Service

Do you own a business or a home in a big town? Maybe you have fallen victim to people spray painting and drawing graffiti on your expensive windows. Not only can it take a very long time to scrub off all of the graffiti, but in some cases scrubbing it off simply isn't an option.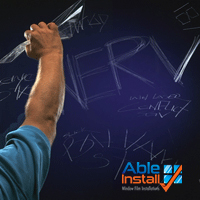 You can spend hours on one piece of the graffiti with no change whatsoever. So what should I do? Do I really have to replace the windows that have now been ruined? Replacing them every time they get damaged is going to mean huge expenses for you.
That's where Able Install comes in! Thanks to our anti graffiti window film, you no longer have to worry about having to spend hours scrubbing or replacing your graffitied windows. Our anti-graffiti film for windows acts as a transparent cover for your panes, which, if professionally installed, will not even be noticeable.
Should you find that your windows have acted as a canvas for some street artist or other, then all you need to do is have the film taken off and replaced with your new, clean, anti-graffiti window film.
Anti-graffiti film installation shouldn't just act as protectors to your windows from graffiti itself. The installation of anti-graffiti film for windows can also prevent other types of damage, such as scratches and even shattering of windows.
The film will be able to hold the shattered window in place, keeping anyone from being hurt by it and possibly even deterring someone who is trying to break in through the window!
Take Advantage of

Our Knowledge and Experience
It's not always easy to identify the right film to use, depending on the type of windows used in your building. We are specialists in display graphics and can walk you through the different products available so that you can make an informed choice that will meet all your requirements.
Why Choose

Anti-Graffiti Window Film?
Being a business of our own, we know the importance of security in our offices. We also know that it is vital for our business to maintain a professional and clean look as much on the outside as it is on the inside.
Graffiti on the outside of any building automatically gives it an unclean, unpolished looks that no one wants for their business. When it comes to getting rid of it though, it can be a tricky job! So why not trust your leading and trusted local company with protecting your windows and in turn, your business, by installing our ever reliable anti-graffiti window films?
If you need help in Swansea, Ipswich, Hampshire, Wallington or across the UK.
To get your free quote today, simply email us at info@ableinstall.co.uk or give us a call and let's help keep your business clean and professional!