Anti-Shatter /

Bomb Blast Protection Films
Protect your employees and customers with Anti-Shatter/Bomb Blast Protection Window film.
Anti-shatter and bomb blast window film aims to provide a thick layer of protection onto your windows to help shield them from unexpected explosions and to prevent the glazing from shattering.
Safety is one of the most important factors when it comes to the workplace. We want to make sure you feel confident that your windows can withstand a high amount of force from a bomb blast.
At Able Install, we specialise in anti-shatter safety film. With over 30 years of experience, we only use the best products that have been thoroughly checked and tested. This gives us the confidence to be able to sell our bomb blast protection film to you. Get in touch with Able Install to receive your free quote today.
Protecting your windows, especially in built-up areas, is essential. Now there is no need to replace your existing windows with something more durable. You can simply add a protective film layer over the top of your windows to provide that extra layer of protection.
This is something we only know too well about. We install blast-resistant window film on properties in London and across the UK. Once the film has been added onto your windows, you will feel much more secure in your building.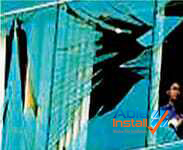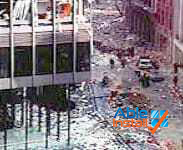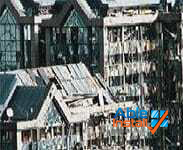 Sadly, there has seen an increase in bomb attacks in big cities over the years. We want to help you feel that in the event of an explosion, you will be protected. By adding anti-shatter glass protection onto your glazing, you will reduce the risk of injury to employers and the public, protect the property from damages and deter any unwelcome visitors.
If there were an explosion, your glazing may suffer, which will reduce the quality of the product. With an extra layer of window film, you can trust that the windows will still be intact. Window film installation is straightforward but must be applied by a professionals. At Able Install, we will take a look at your glazing and choose the appropriate blast-resistant window film for your windows.
Take Advantage of

Our Knowledge and Experience
It's not always easy to identify the right film to use, depending on the type of windows used in your building. We are specialists in display graphics and can walk you through the different products available so that you can make an informed choice that will meet all your requirements.
Call today on 0333 212 4236 to find out more.
Reliable

Bomb Blast Protection Window Film

This high tensile strength, anti-shatter film will reduce the dangers posed by broken glass and other flying debris, making it far more likely that your building and the people inside it will be safer from serious injury and death, and that your business and property will be affected as little as possible.

We recommend that not only should the anti-shatter film be installed to external glazing but is also applied to doors and internal partitions.

The film is usually applied to the internal side of the glass but where there is limited access it can also be fitted externally, It is designed to stretch and give with the force of the blast without tearing, and can absorb a large part of any shock wave. Even if the glass is blown out it will do so in one piece because it is held together by the film.
"Modern Buildings make much greater use of glass than older buildings which means that most casualties nowadays are caused by flying glass."

from the CIPD (Centre for Protection of National Infrastructure) website
"One of the most serious national security threats that we face today, as the London terrorist attacks in July 2005 showed, is that an attack or multiple attacks may be mounted at any time without warning!"

MI5 describe the threat from international terrorism
Contact

Us

Why wait any longer to protect your property? Enquire now about our Bomb Blast Protection window film, and we will inform you how it works and all its advantages.

Our experts know everything there is to know about window films – you can rely on us to protect the windows on your property. Call us on 0333 212 4236 or email us at info@ableinstall.co.uk to find out more information.