Welcome to Able Install Ltd.
Professional

Window Film Installations
Are you looking for window film installers near me? Are you interested in setting up commercial window tinting for your business, or modern privacy film for your home? Window film is a great new way to transform the look and feel of your existing glass without having to make any replacements. For reliable, professional window film installation, you should look for a leading team with years of experience in the manufacture, supply and installation of films to businesses and homes across London, Surrey, Birmingham, Manchester, Hampshire and across the whole UK.
For the best house window tinting, low-cost frosted window film and dedicated specialist care, you need look no further than Able Install Ltd. But what is it about our experts and engineers which sets us apart from the competition? Is it our fantastic range of UV window film, or our committal to low cost prices across our wider catalogue? Read on and learn more.
Who Is

Able Install Ltd?

Able Install Ltd is an independent UK company with offices in London and Southampton. We provide a nationwide window installation service and have over 30 years' experience in the supply and installation of a wide range of different types of window film for domestic, commercial and industrial buildings, drilling platforms and oil and LNG tankers. We're proud to be able to help local businesses and homes gain access to the best window film installation around. However, we are never afraid to look further afield to help people who need us.

We are leading specialists in the production and installation of office window tinting, anti-graffiti film and more besides. We are the best window film company near me, who genuinely cares about finding the best possible solutions for our customers' concerns. Need security window film to protect against unwanted attention? Looking for a reliable window film installer and a low-cost fitter who can attend to all of your existing windows? All you need to do is call us.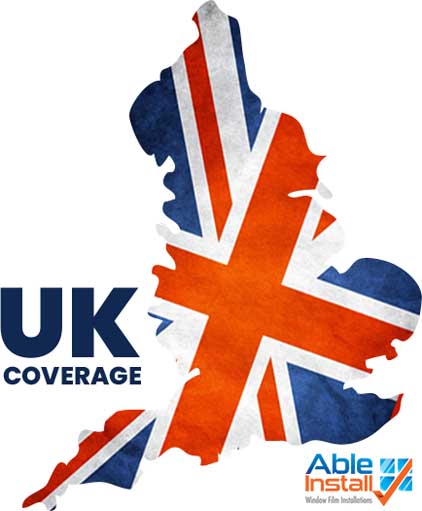 We have a vast variety of affordable window film available for various needs and purposes. Are you looking for window film suppliers near me? Who can help with nearby window security film installation? Maybe you need specialists who can support you with cheap residential window film installation. In any case, we will always be sure to find the right package and supplies to suit your needs.
For example, we supply and personally install solar control window film. These window films protect you against the sun's damaging ultra-violet rays. We will also be able to fit safety and security window film, different levels and shades of both tinted and opaque films, as well as frosted and privacy films designed to suit every scenario. We can fit a frosted type film for a bathroom window for complete privacy. Or, we can fit thick, heavy-duty bomb blast window film & burglar film. Our variety and low-cost tariffs are what make us leading names in national window film fitting. What's more, we will also be able to produce custom decorative window film with bespoke designs, colours and shapes.
Our safety and security window films can also be used to upgrade your building's glazing so that it complies with current health and safety regulations. Our commercial window tinting and films do more than just look pretty!
Choosing Able Install as your local or nearby window film installation specialists is a fantastic move to make. With around three decades' experience working as dedicated window film installers, you can rest easy knowing that the work we do will be of an impeccable, professional standard.
Do you need us to help with house window tinting, burglar window film or low-cost commercial window tinting? Don't worry. We will be more than happy to show you solutions which could change the way you look at your building. In the name of security as well as privacy and aesthetics, we feel it's essential we give you a wide array of choices.
Our dedicated team will ensure that any glass and windows – whether at your business or in your home – are safe and secure. We also ensure that they offer not only privacy but also protection from solar heat, UV rays, thieves, vandals, accidents, burglary, even terrorist attacks and industrial accidents.
Want to learn more about what we do? Take a closer look at our website, or call us today on 0333 212 4236 for your free quote.
Reduce heat and glare by up to 80% with our solar energy reduction films

10% discount for good causes and HM forces

10% discount for NHS staff and key workers

Ask us for one of our flyers which entitles you to a 5% discount on our solar control films

Free and friendly no obligation site visit with demonstration of just how effective our films are

Reduce fading by 99% from harmful UV our rays with our solar control films

Increase security for your home or property with our anti-burglar window film

Keep cool with able install

Professional window film installations

Privacy films to stop prying eyes and nosey neighbours

Window film, the modern cost-effective alternative solution to blinds
Over 30 Years of Experience

Nationwide Installation Service

In-house Graphic Design Department

High Quality Installations

10 Year Manufacturers Warranty