Professional Window Film Installation Service
Leading Safety Window Film Company
For British households and offices, standard and safety windows are still available. It's easy to forget just how dangerous our windows can be, even though we use them every single day for light, protection from the weather outside, etc. It only takes a leading safety window film to solve the potential problems and hazards with your windows.
Standard windows are made of a relatively thin layer of glass that can easily shatter, sometimes when we least expect it! It will break if something hits it too hard, even accidentally. Should you shut the window or door too hard, the glass within the door or on your windows could very easily break. A child throwing a ball through it, someone slipping and falling through it, something falling onto it, etc.
The possibilities are endless, and it does mean that those windows we use every day have a high chance of actually causing us more damage than we would like to think! Have you considered the best window safety film company before?
Window films can always be replaced, but they are extremely expensive, and if you replace the windows, the damage has likely already been done. Why not avoid the problem rather than wait for it to happen?
Make your home or office a safer place for yourself and others without spending a fortune! Just contact Able Install for your free quote today and benefit from the best local window safety film installers on the block.
Trusted Safety And

Security Window Film
Windows are often used to create open and light environments in the workplace, but can also be extremely hazardous. Many people overlook its fragility and potential danger.
We are usually surrounded by window film at work, and standard windows are not only easily broken but capable of inflicting serious and even life-threatening injuries as it shatters.
Safety & Security Films:

Benefits at a Glance
Brings Windows up to UK Safety Standards

Improves Building Security and offers Safety from Explosion

Scratch-resistant and comes with a 10 year Warranty

Available in Clear or a Variety of Combined Solar & Safety Tints

Up to 99% UV Reduction, even with Clear Window Films

Internal and External Grades Available
Our window safety films are high quality and come in a range of thicknesses.
The thicker the film, the higher the level of protection offered.
Protective films that range from 50 to 350 microns and are tested to BS and EN standards provide an invisible yet potentially life-saving barrier on windows, reducing the risk of breakage and holding glass fragments in place.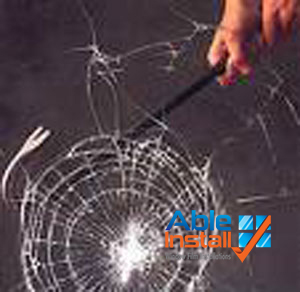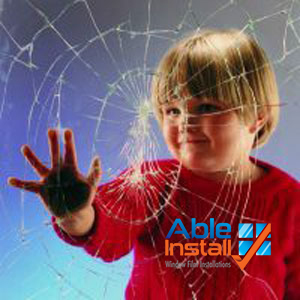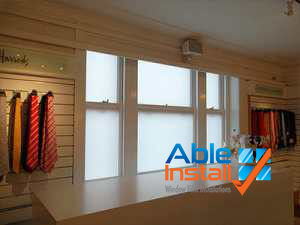 Professional

Security Window Film Service
Able Install offers you the best security window films that can help you to avoid the expense and hassle of replacing the glass of your windows. Your existing window will be protected by the window film that will be professionally installed. It's always important to find reliable window security film installation near me.
When the glass eventually breaks for whatever reason, the film's strong adhesive will hold all of the broken pieces in the same position, remaining on the film. This will help to keep you and anyone around the window safe and secure. It truly is a quick, cheap and easy way of keeping everyone safe!
We support customers across Bristol, Nottingham, London, Sheffield and beyond.
So why not get your free quote today from the best security window film installers near me? You could be one step closer to keeping your family safe. Just start by calling our trusted team on 0333 212 4236 or for more information, contact us at info@ableinstall.co.uk.
A Quick & Easy Way

to Comply with Health & Safety Regulations
All safety & security window films that are 100 micron and above are tested to and comply with British Standard 6206 Class A and B. They can, therefore, be used to upgrade sub-standard windows in critical areas to meet the requirements of the Workplace Health, Safety and Welfare Regulations (1992) and Regulation 14 (1996). The installation can easily be done with the windows in situ and without the inconvenience and considerable expense of having to replace the existing windows.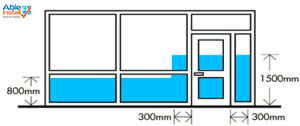 Take Advantage of

Our Knowledge and Experience
It's not always easy to identify the right film to use, depending on the type of windows used in your building. We are specialists in display graphics and can walk you through the different products available so that you can make an informed choice that will meet all your requirements.
Professional

Security Window Film Installation Service
When installed properly, security window films can upgrade your existing and unsafe windows quickly and inexpensively – without the mess and disruption of replacing the glass.
With our professional security window film installation service, the film will create a near-invisible protective coating on the surface of the glass. The adhesive on the film is incredibly strong and ensures that should the glass break or shatter, the broken glass will remain in place, held together by the film.
Also available are combined solar and safety window films that offer additional benefits: they keep UV radiation out, reduce carpets and furniture fading, and help control sun heat.
Contact Us Now,  to find out more.
Appropriate Window

Safety Standards and Regulations in the UK
Workplace (Health Safety and Welfare) Regulations 1992 (Number 14)

BS EN12600 Glass in Building Pendulum Test (an impact test classification for flat glass).

The Disability Discrimination Act (DDA) 1995

Building Regulations Approved Documents N2, M, L1 L2