Dealing with Nickel Sulphate Inclusion in Windows,

Changi Airport
Client: LTA (Land Transport Authority)
Location: Changi Airport, Singapore
Brief: A method to reinforce and anchor the existing windows against possible spontaneous glass breakage due to nickel sulphate inclusion.
Solution: A 16 man team worked for 14 months, with a window team on both the outside and inside.
The outside face of the glass panel was temporarily anchored with 4 double sets of glass suckers, then the top bolts were removed in sequence.
The anti shatter safety window film was fitted and then anchored around the bolt holes using double sided polyprene self adhesive washers.
The bolts were replaced and tightened to 16 GU; the whole process was then repeated for the bottom half of the glass panel.
Finally a 75mm reinforcing strip was fitted over the butt joint where the top and bottom pieces of film met.
Total sq metres: 9360 internal, 5575 external
Access: cradles and gantries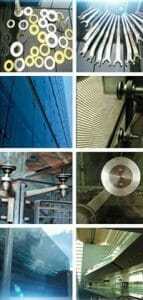 Take Advantage of

Our Knowledge and Experience
It's not always easy to identify the right film to use, depending on the type of windows used in your building. We are specialists in display graphics and can walk you through the different products available so that you can make an informed choice that will meet all your requirements.